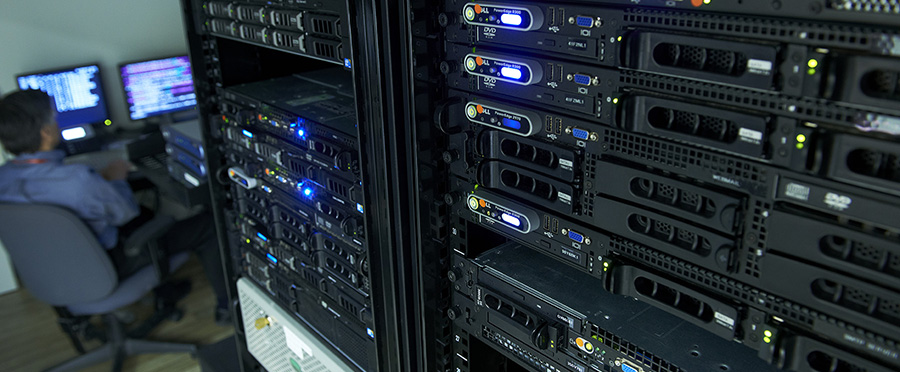 Inbound Call Centre Technology
Extend built a brand-new state-of-the-art operations centre in 2013. The centre is equipped with the latest in digital equipment and technology, not to mention an amazing working environment for our staff. In addition to our new operations centre, we maintain a complete backup call centre at another location, all primed and ready to go in the event of severe disaster. Our digital technology provides a highly scaleable platform capable of handling very large call volumes, and ensures no service interruptions in the event of storms, evacuations, or other natural disasters.
Read about our infrastructure here, or better yet, stop by anytime for a tour!!
Hardware
T1′s from the phone company central office connect directly to our ACD (automatic call distributor) switch. This digital switch utilizes a combination of account profiles and skills-based routing to serve each call to the most appropriate agent. Calls are presented with CTI (computer telephony integration) which automatically "pops" the agent's computer screen with the account answer phrase, call scripts, help screens, and more. Screens can also be automatically popped to any web page, or WAN (wide-area network) database. In addition:
A digital call logger tracks and records calls for quality control and training.
All call data is stored on redundant hard drives and backed up to tape on a daily rotation. Four weeks tapes are stored off site.
Our site is also served by large UPSs (uninterruptible power supplies) and also backed up by a natural gas generator.
Software
Our call handling software is highly customizable to the wide variety of applications our clients demand. Most impressive, is the software's ability to make call handling and data capture fast and efficient. When the length of a call is important, this efficiency adds directly to the bottom line. Software features include:
Automatic data formatting. (it even knows when to capitalize a letter and saves us a key stroke!).
Direct import of city/state/province fields by our North American zip/postal code database. (no more asking, "What city are you in? How do you spell that?", it's all automatic).
Caller databases. If the caller has done business with you before, we know it!
Unlimited SKUs (stock keeping units) and SKU building.
Multi-currency capability.
Real-time shipping, taxation, and payment calculations.
Scripting including detailed product help screens, conditional branching, up-sells/cross-sells.
Automatic credit card verification.
Credit card payment processing.
Address correction to postal standards.
Data reporting by any method in almost any format.